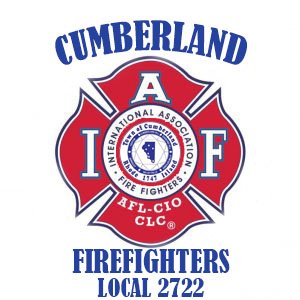 The Cumberland Fire Department along with it's firefighters provides emergency services to the Town of Cumberland, Rhode Island. Cumberland is located in Providence County, 10 minutes north of the Capitol City of Providence and 45 minutes south of the City of Boston, MA.The department operates out of 4 stations located strategically throughout the town. The department provides emergency services to 34,000+ citizens of Cumberland in an area of 28.6 square miles. The Department employs 1 Fire Chief, 1 Assistant Chief, 51 career line personnel assigned over 4 platoons (shifts), and (8) administrative personnel. There are also a number of call firefighters who provide assistance regularly throughout the year. All stations are staffed 24 hours a day 7 days a week. Currently, the department holds an ISO rating of 4.
The Cumberland Professional Firefighters Local 2722, was created upon the anticipation of the merging of the four fire districts in Cumberland. Because of this the four IAFF Local's in town merged also.
Feel free to contact us with any questions you may have.